Participating Chefs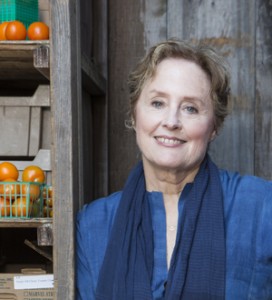 Chef Alice Waters
Chez Panisse
Berkeley, CA
Alice Waters, chef, author, and proprietor of Chez Panisse Restaurant in Berkeley, California, and founder of the Edible Schoolyard Project, is a pioneer of a culinary philosophy based on using the freshest organic seasonal ingredients. Over the course of forty-two years, Chez Panisse has developed a network of local farmers and purveyors whose dedication to sustainable agriculture assures the restaurant a steady supply of pure, fresh ingredients.
Waters's commitment to education led to the creation of The Edible Schoolyard in Berkeley, a one-acre garden and kitchen classroom at Berkeley's Martin Luther King, Jr., Middle School. Started in 1996, the Edible Schoolyard in Berkeley is a model public education program that gives students the knowledge and values they need to build a humane and sustainable future by actively involving them in all aspects of the food cycle: planting, harvesting, and cooking. The success of the program led Waters to found the Edible Schoolyard Project, a non-profit organization with the goal of building and sharing an edible education curriculum from kindergarten through high school. Its vision is for gardens and kitchens to become interactive classrooms for academic subjects, and for every student to have a free, nutritious, organic lunch. Its website, edibleschoolyard.org, serves as a resource for edible education programs around the world, and gathers and maps best practices for an edible education curriculum.
Waters is Vice President of Slow Food International, a nonprofit organization that promotes and celebrates local artisanal food traditions and has more than 100,000 members in over 130 countries. She is the author of ten books, including The Art of Simple Food II: Recipes, Flavor, and Inspiration from the New Kitchen Garden, coming out next month.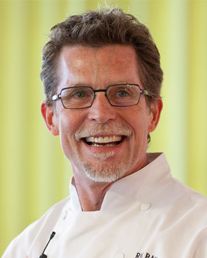 Chef Rick Bayless
Topolobampo and Frontera Grill
Chicago, IL
People know Rick Bayless from winning the title of Bravo's Top Chef Masters, beating out the French and Italian with his authentic Mexican cuisine. His highly rated Public Television Series, Mexico–One Plate at a Time, is in its ninth season and is broadcast coast to coast. In 2012, Rick was nominated for a Daytime Emmy for Best Culinary Host.
Rick has eight cookbooks. His second book, Mexican Kitchen, won the Julia Child IACP cookbook of the year award in 1996, and his fourth book, Mexico–One Plate at a Time won James Beard Best International Cookbook of the Year award in 2001. Fiesta at Rick's spent a number of weeks on the New York Times best seller list.
Rick's side by side award-winning restaurants are in Chicago. The casual Frontera Grill was founded in 1987 and received the James Beard Foundation's highest award, Outstanding Restaurant, in 2007. The 4-star Topolobampo served its first meals in 1991. And the wildly popular, LEED GOLD-certified, fast-casual Xoco has been around since 2009, serving wood-oven tortas, steaming caldos, golden churros and bean-to-cup Mexican hot chocolate.  Rick's quick-service Tortas Frontera have changed the face of food service at O'Hare International Airport, while Frontera Fresco has brought Frontera flavors to several Macy's stores and Northwestern University.  His award-winning Frontera line of salsas, cooking sauces and organic chips can be found coast to coast. Rick and his staff established the Frontera Farmer Foundation in 2003 to support small Midwestern farms. Each year, grants are awarded to farmers for capital improvements to their family farms, encouraging greater production and profitability. To date, the Foundation has awarded $1.2 Million to 71 farms. In 2007, Bayless and his team launched the Frontera Scholarship, a full tuition scholarship that sends a Mexican-American Chicago Public School student to Kendall College to study culinary arts. In 2007 Rick was awarded the Humanitarian of the Year by the International Association of Culinary Professionals for his many philanthropic endeavors.
Rick has received a great number of James Beard Award nominations in many categories, and he has won six: Midwest Chef of the Year, National Chef of the Year, Humanitarian of the Year, Who's Who of American Food and Drink, plus two for his cookbooks.
The Government of Mexico has bestowed on Rick the Mexican Order of the Aztec Eagle–the highest decoration bestowed on foreigners whose work has benefitted Mexico and its people.
Recently, Rick finished up a sold-out 5-week run on stage at Lookingglass Theatre, where he created Cascabel–offering theater goers the story of a meal, told through flavor, memory, song, dance and amazing physical feats.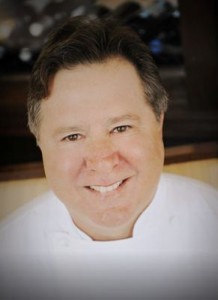 Norman Van Aken
Tuyo Restaurant
Miami, FL
Legendary Chef Norman Van Aken is known internationally as "the founding father of New World Cuisine," a celebration of Latin, Caribbean, Asian, African and American flavors. He is also known for introducing the concept of "fusion" to the culinary world in a symposium on American cooking in Sante Fe in 1988. He is the only Floridian inducted into the prestigious James Beard list of "Who's Who in American Food and Beverage."
He is the Chef and Director of Restaurants at the Miami Culinary Institute as well as the Chef-Owner of Tuyo Restaurant in Miami, Florida.
In 2006 he was honored as one of the "founders of the New American Cuisine," alongside Alice Waters, Paul Prudhomme, and Mark Miller at Spain's International Summit of Gastronomy "Madrid Fusion" event.
The New York Times deemed his fine dining restaurant, NORMAN'S, the Best Restaurant in Florida, and Norman Van Aken its best Chef.
Norman Van Aken has published five cookbooks: Feast of Sunlight 1988, The Exotic Fruit Book 1995, Norman's New World Cuisine 1997, New World Kitchen 2003 and My Key West Kitchen 2012, (with Justin Van Aken).
His next book is a memoir. It is titled, "No Experience Necessary" and will be out in the Fall of 2013 with Taylor Trade Publishing.
His radio show, "A Word on Food" appears twice a week on PBS WLRN 91.3.
Chef Sarah Stegner
Prairie Grass Cafe
Northbrook, IL
Sarah Stegner is Co-Chef/Owner of Northbrook's Prairie Grass Cafe with partner George Bumbaris and husband/partner Rohit Nabiar. In spite of her award-winning history, Chef Sarah Stegner is modest in the way she approaches her life as a chef, she's an easy person to embrace, and so likeable you just want to cheer her on. She is the co-founder of National Eat Local Day along with friend and colleague, Cindy Kurman of Kurman Communications, Inc. "My approach to ingredients developed over a long, slow process," Sarah says. "When I started out as a chef, I knew that the best, freshest flavors came from ingredients produced by local farmers. But I couldn't find farm contacts easily, so my friends in the business helped introduce me to some of them. What a joy! The farmers turned out to be passionate about what they were doing and very perceptive when it comes to what quality means. I began to establish wonderful working relationships with these producers and the momentum grew from there."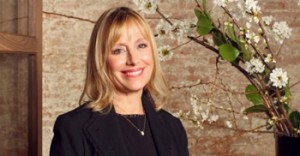 Chef Alison Price Becker
Alison Eighteen
New York, NY
A true New Yorker, Alison Price Becker has been delighting diners with her signature "Alison" hospitality for more than 20 years. From working with some of the industry's greatest chefs and restaurateurs to opening four restaurants of her own, Alison is a veteran of the New York dining scene with an innate understanding of what good hospitality means. Her passion and meticulous attention to detail is discernible in every aspect of her work and has made her the successful restaurateur she is today.
Born and raised in New York City, Alison began her career as an actress. Despite her successful acting career, even co-starring as a Pink Lady in "Grease," the work she did on the side within the restaurant industry won her attention and her heart.  In 1985, Alison began working for celebrated Chef Jonathan Waxman, first at Buds and then at his popular restaurant, Jams.  Alison went on to hone her hospitality skills in notable restaurants such as Jerom Kretchmer and Alfred Portale's famed Gotham Bar and Grill and Serge Raoul and Thomas Keller's acclaimed Rakel Restaurant, to name a few.  After four years of working with some of the country's greatest chefs and restaurateurs, Alison decided to launch her own restaurant and in doing so she made her own indelible mark on Manhattan's dining scene.
In May of 1989, Alison opened Alison on Dominick Street, her first restaurant in the Alison series. Viewed as one of New York City's most romantic spots, Alison's warm welcome and watchful eye ensured that the restaurant became extremely popular with both patrons and critics alike. The restaurant's rustic yet elegant French cuisine influenced by the Basque region received two-star reviews from The New York Times from its inception to its closing in 2002. During this run, Alison opened her second restaurant in 1996, the equally successful Alison by the Beach in Wainscott, New York, and in 1998 opened up her first pop-up restaurant at the Inn at Quogue.  In 1999, Alison wrote her first cookbook, Kitchen Suppers: Good Food to Share with Good Friends (Doubleday, 1999), well-received for sharing not only recipes that Alison loves to cook for friends and family, but the stories behind those cherished meals.
After the close of Alison on Dominick, Alison moved Alison by the Beach to Bridgehampton, simply titling the new restaurant, Alison Restaurant.  From 2004 to 2008, she continued the quintessential "Alison" experience of simple, robust yet elegant dining that had garnered her so much acclaim, and after the restaurants closing she opened for one more summer as a pop-up, The Maidstone Arms Hotel.
In 2009, Alison returned to New York City as a consultant to brands including The Cooper Square Hotel, Kraft and PepsiCo, managing and catering events and helping to draft a practical, not "preachy" approach to making their products healthier.  This work prompted Alison to work closely with the former Southampton Superintendent to provide better alternatives for the local school lunch program.
In January 2012, the time, place and people were perfectly aligned in Alison's return to Manhattan.  Her new partners, Michael Namer and Gary Spindler; and Executive Chef Robert Gurvich, former chef at Alison on Dominick, Alison by the Beach and The Maidstone Arms pop-up, have joined together to give guests' the signature Alison experience they have and will continue to love.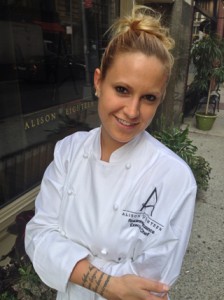 Chef Roxanne Spruance
Alison Eighteen
New York, NY
Chef Roxanne Spruance creates innovative, seasonal French influenced food, while respecting and incorporating regional traditions.
Roxanne entered the culinary world as a pastry chef apprentice in the Midwest. During her years working her way up in restaurants including Brasserie Ruhlman under Christian Delouvrier, Roxanne gained valuable knowledge and experience in all aspects of restaurant kitchens. With that knowledge she was able to take over for Chef Dale Levitski as Executive Chef at Stone Lotus Lounge in Chicago. In 201, Chef Roxanne landed a coveted spot as Chef de Partie under world renowned Chef Wylie Dufresne at NYC's wd~50. where Roxanne took full advantage of the opportunity to absorb invaluable techniques into her repertoire and to explore  and experiment with flavor profiles and menu creation.  Her tenure at WD-50  was followed by a Sous Chef position at Blue Hill at Stone Barns under the guidance of Dan Barber, where the daily exposure to fresh and local serves as a backbone of her food today.
Growing up an athlete in Chicago, Chef Roxanne has taken her fearless winning attitude towards sports and translated it into a fearless attitude towards food. She is not afraid to experiment with different genres and the best ingredients and she believes in creating a culinary product that is stimulating and also sure to please her guests all the while never losing respect for simplicity. Believing that the best food comes from fresh, seasonal products, Roxanne is passionate about purchasing from local farmers.  These ingredients are used to in creating the beautiful and exciting plays
Roxanne joined Alison Eighteen as executive chef in April 2013.  She looks forward to creating menus incorporating the tradition of the French brasserie, the freshness of the local farm, with playful surprises hidden throughout.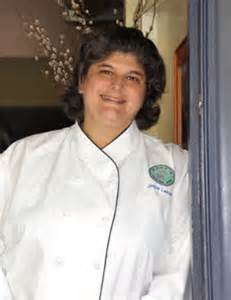 Chef Jamie Leeds
Hank's Oyster Bar
Washington, DC
Jamie Leeds is one of Washington's most highly recognized chefs due to her wildly successful restaurant, Hank's Oyster Bar; her very active role in the community and her 20 plus years of inspiring culinary experience in New York, prior to moving to DC.
In May 2005, she opened her first restaurant as executive chef and owner, the 65-seat Hank's Oyster Bar, which serves "Urban Beach Food". Hank's is named after Leeds' father, who she credits as her inspiration for becoming a chef. Since its' opening, Hank's Oyster Bar has been praised by Gourmet, Bon Appetit, Food & Wine, Southern Living, The Washington Post, Washingtonian, DC magazine, The Washington Times and Fox Morning News.
Leeds came to Washington, D.C. when she joined the Washington Terrace Hotel as executive chef in May 2002, where she launched the 70-seat 15 ria. Her American cuisine with a comfort food twist was an immediate hit at the handsome, new boutique hotel where she was also responsible for developing catering menus. Wine Spectator, The Washington Post, Washingtonian and Bon Appetit were among the publications that praised Chef Leeds for her exceptional fare. Favorable reviews and a successful launch also earned Jamie Leeds a nomination for "Rising Culinary Star" from the Restaurant Association of Metropolitan Washington's Capital Restaurant & Hospitality Awards in June 2003.
Chef Leeds was also named a "Rising Star Chef" by Starchefs.com for Washington, D.C.'s 2003 awards program, which selected only seven chefs throughout the area for the coveted recognition. In 2006, her new restaurant Hank's Oyster Bar was nominated for a RAMMY for "Best New Restaurant" by the Restaurant Association of Washington and in 2008, Hank's won the coveted RAMMY for "Best Neighborhood Restaurant". In 2012, Hank's Oyster Bar was nominated again by Restaurant Association of Washington for "Best Casual Restaurant".
Prior to her Washington move, Chef Leeds worked for three years with the renowned Myriad Restaurant Group as an executive consulting chef for several of their successful restaurants including New York's Tribeca Grill, the Steelhead Grill in Pittsburgh, and the W hotel in Seattle. A self-taught chef, Leeds brought to Myriad a strong sense of American culinary values, incorporating local and seasonal produce into her recipes.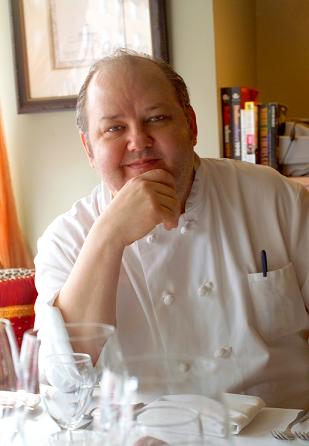 Chef Mark Grosz
Oceanique
Evanston, IL
Chef Mrk Grosz Oceanique, Evanston IL Chef de cuisine and owner Mark Grosz worked under the tutelage of renowned chef Jean Banchet of the world famous Le Francais in Wheeling, Illinois. He further refined his skills in France and Hong Kong, and has served as head chef and culinary impresario at a variety of restaurants and private clubs in Illinois and Michigan until 1989 when he opened the doors at Oceanique. Mark continues to offer discriminating diners some of the most creative and exquisite dishes prepared in the French tradition, with an American twist.
Chef F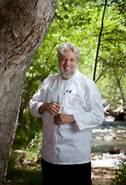 rançois de Mélogue
Figue Mediterranean 
La Quinta, CA
Chef François grew up in a very French household in Chicago. His earliest attempts at cookery began with the filleting of his sister's goldfish at age two and a braised rabbit dish made with his pet rabbits at age seven. He eventually stopped cooking his pets and went to the highly esteemed New England Culinary Institute where he graduated top of his class in 1985.
Chef François de Mélogue is Executive Chef of Figue Mediterranean. With over 20 years of cross-cultural culinary experience, Chef François brings an impressive culinary history and a unique Mediterranean cooking style. After graduating top in his class from the notable New England Culinary Institute, Chef François began his career in a number of highly acclaimed kitchens across the country, including Chef Louis Szathmary's restaurant The Bakery in Chicago, Old Drovers Inn, a Relais and Chateaux property in New York and Joel Robuchon Gastronomie restaurant in Paris, before opening award-winning restaurant Pili Pili in his hometown of Chicago, rated in the Top Ten new restaurants in the World by Food and Wine magazine in 2003.
While working with Robuchon, Chef François began to shape his personal culinary philosophy of "Cuisine Actuelle," which showcases the natural flavor in the ingredients he uses to create his dishes. Chef Francois specializes in simply prepared Mediterranean-inspired cuisine that is enhanced by his appreciation and knowledge of fine wine, craft beer, charcuterie and cheese. In line with his belief that food should be prepared without unnecessary distractions or alterations, Chef François aims to create honest, healthy and delicious cuisine that is approachable and always delightful.
Specialties: incredibly focused cuisine actuelle mixed with a deep appreciation of fine wines, beers, charcuterie and cheeses
Restaurant Nora
Washington, DC
Nora Pouillon is a pioneer and champion of organic, environmentally conscious cuisine. Born in Vienna, Austria, Nora came to Washington, D.C., in the late 1960s. She was shocked to discover the processed, chemical-laden foods Americans were eating, which she realized contributed to their health problems. That's when she embarked on her crusade to promote a healthier lifestyle.
In the 1970s, Nora began to develop an extensive network of organic and natural farmers, personally driving out to farms in the Washington, D.C., area to purchase local produce and meats for her family and her cooking class/catering business. When she opened Restaurant Nora in 1979, she continued to use these farmers to supply the restaurant with seasonal organic produce while introducing other D.C. chefs to the farmers as well. She also initiated D.C.'s first producer-only farmer's market, called FRESHFARM Markets, which now includes eleven markets in the metropolitan area.
By the mid-1990s, nearly all of the products used at Restaurant Nora were certified organic. Nora sought out Oregon Tilth, a certifying agency, and worked with them for two years to establish the organic certification standards for restaurants. In 1999, Restaurant Nora became the first certified organic restaurant in the United States, a feat accomplished by few since.
Nora tirelessly advocates her commitment to nutritionally wholesome food and a sustainable, health-focused lifestyle based on the premise that you are what you eat, drink, and breathe. This philosophy not only extends to her restaurant, but also to her outreach work. Each year, Nora hosts five Women Chefs & Restaurateurs interns at the restaurant, and she sits on the board of directors of seven food and environmental organizations. Nora is the author of Cooking with Nora, a seasonal menu cookbook that was a finalist for the Julia Child Cookbook Award, and she is currently working on her memoirs.
Chef Paul Fehribach
Big Jones
Chicago, IL
Paul Fehribach is Executive Chef and co-owner of Big Jones. Big Jones features Southern heirloom cooking with a focus on sustainably grown heritage and heirloom crops and livestock, sustainable seafood, and contemporary American kitchen techniques. Chef and co-owner Paul Fehribach's vision is forward-thinking cuisine grounded deeply in the rich and diverse heritage that is the Southern kitchen, using the ark of history to bring you food that is as refined as it is down-home satisfying. Throughout his career Paul has supported the farm-to-table and slow food movements. "I do what I do because I want to see nutrition, sustainability, and humane treatment of farm animals become the standard by which we judge food – not cheap price, industrial consistency, or marketing dollars spent. We can all eat better by treating the land and our animal friends better." Paul was a semifinalist for the James Beard Foundation's Best Chef: Great Lakes award in 2013.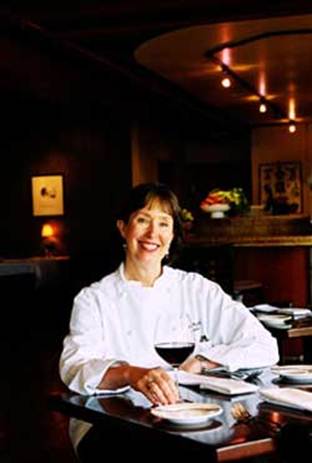 Chef Stephanie Pearl Kimmel
Marché
Eugene, OR
A native of Texas, Stephanie grew up living and traveling around the world. Her father was a career Air Force pilot who was stationed in Japan, Europe and North Africa, as well as in many regions of the United States. Her parents, both enthusiastic cooks and cultural explorers, engendered in her a love and appreciation for diverse traditions, especially those involving food. Stephanie's formal education was in English literature and French cultural history, with degrees from the University of Oregon and the Sorbonne. As a graduate student in comparative literature, she took her first restaurant job to help pay for educational expenses, and it was there that she discovered her true passion. Her lifelong interest in cooking evolved into her métier.
In 1972, she opened the Excelsior Café in Eugene, Oregon, pioneering a Northwest culinary movement with her use of seasonal menus that celebrated the bounty of the region. The restaurant was also the first in Oregon to feature the wines of the young Oregon wine industry. During her tenure there as chef and owner, the Excelsior Café was featured in many national, regional and local publications including Food & Wine, Gourmet, Travel and Leisure, Bon Appétit, The New York Times and Sunset.
After selling the Excelsior Café in the spring of 1993, Stephanie took an extended trip to France to explore the regional markets and vineyards, an experience that further sharpened her focus and commitment to market-oriented cooking. In the fall of 1993, she was chosen by King Estate Winery to develop an intensive culinary department as an integral part of their national marketing plan. Her responsibilities as culinary director included supervising a full-scale hospitality program; planning the organic vegetable and flower garden, berry patches and orchards; developing a line of food products from the property; doing food and wine events around the country; and writing about food and wine pairing.
In 1995, Stephanie compiled and edited the King Estate Pinot Gris Cookbook, and received highly favorable reviews in a number of food and wine publications. In 1996, she followed up with the King Estate Pinot Noir Cookbook. Stephanie was the culinary director of a 13-part cooking series called New American Cuisine, which has been shown on public television stations nationwide. New American Cuisine was nominated for the prestigious James Beard Award for best national cooking series in 1997.
In 1997, Stephanie turned her attention to downtown Eugene and the historic Fifth Street Market complex. She opened the casual, French-inspired Marché Café in December of 1997. Marché, a full-service restaurant and bar serving market-driven regional cooking, opened to an enthusiastic audience in September of 1998. Since then, the restaurant has flourished under Stephanie's care and emerged as one of the Pacific Northwest's culinary destinations. In 2006, she proudly opened Marché Provisions, a european-style food emporium that includes housemade ice cream, pizza, espresso, charcuterie, a line of specialty foods, retail accessories and a wine bar. The opening of the Inn at the 5th in 2012 began another new chapter for Stephanie and Marché, with an expanded bar, the addition of breakfast service at Marché, and room service for Inn guests.
Stephanie is active in the community, having served on a variety of boards and commissions over the course of her career. She was a representative on the Oregon Liquor Control Commission, and a board member for the International Pinot Noir Celebration, Women Chefs & Restaurateurs, the Oregon Truffle Festival and the Oregon Restaurant Association–in addition to being an active member of the Chefs Collaborative and Slow Food. Most recently, she has turned her attention to school food advocacy, working to bring Michelle Obama's Chefs Move to Schools program to Eugene's schools, and improve school lunches throughout the district.
Throughout her career, Stephanie has been recognized as a pioneer in the movement to support and celebrate regional, seasonal cuisine. She was a finalist for a James Beard Award in 2006, and honored for lifetime achievement by Women Chefs & Restaurateurs, the Cascadia Culinary Conference and many more.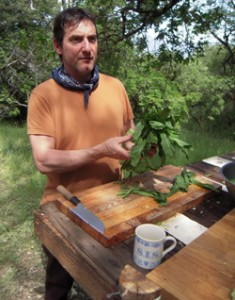 Chef Jérôme Waag
Chez Panisse
Berkeley, CA
Jérôme Waag was born in Paris, France, and raised in the south of the country enjoying his mother Nathalie's classic Provençal cooking. In 1991 he moved permanently to California after visiting and working in the kitchens of his mother's friend, Alice Waters. He counts former Chez Panisse Chefs Paul Bertolli and Jean-Pierre Moullé as is mentors and teachers. An artist, when Jérôme is not cooking he practices his art which explores the junction of art and everyday life, particularly as it pertains to food and community.